PRESS NEWS CENTER MAINE: Big Gig's 'Pitch-Off' helps local entrepreneurs grow their business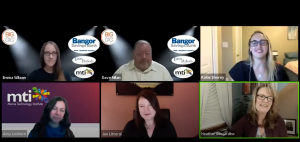 Original Story News Center Maine 
BANGOR, Maine — For entrepreneurs, getting an idea off the ground is tough, but the real challenge is growing your business.
There are plenty of organizations and resources in the Bangor region for start-up companies to reach out to, but one group is comprised of multiple municipalities, universities, and business leaders aimed to help entrepreneurs.
Big Gig and it's 'Pitch-Off' events help local companies promote their product or service during multiple events a year. Tuesday was the second 'regular-season' pitch-off and three Mainers all pitched for their chance to win $500 and advance to the final round for a chance to win $5,000.
"They don't have any PowerPoints or anything like that. t's just their pitch," Emma Wilson, the Entrepreneurship Events Coordnidator at UMaine said. Wilson also helps market and coordinate Big Gig events.
Wilson said the events are typically held in locally-owned breweries or restaurants, but since the start of the pandemic, they've been virtual. All pitch-offs are via Zoom and streamed on Big Gig's Facebook page.
The virtual format has allowed for more Mainers to submit their pitches to the initial stages of the competition before the pitches are made publicly. John Fuhrman of Bub'n Mutha's, Veronica Stubbs of The Scone Goddess, and Stephanie Noyes of 360Sleves all made their pitches to the panel of judges, and the audience Tuesday evening.
Before the event, Fuhrman and Stubbs were able to warm up their pitches over Zoom calls with NEWS CENTER Maine. "Who wants to help us be the Sam Adams of Barbecue, locally made, nationally known," Fuhrman said when reciting his tag line from his pitch. The Winterport based company makes barbecue dry-rubs with a Maine attitude. That attitude comes from ingredients made by locally owned businesses around the Bangor area. Fuhrman said he uses maple crystals from Maine Maple in Madison, coffee beans from Coffee Hound in Brewer, and mustard seeds from Raye's Mustard in Eastport.